Sourcing Force Blog
Take procurement to the highest level 
Skill up and learn about procurement tips, advices, strategies and digitization on Sourcing Force blog
Our Latest News:
Although procurement technology is nothing new, there are first-time implementations going on all the time. Whether you are introducing the company's first full end-to-end platform or adding a new area of functionality to an existing platform (i.e., contract...
Procurement System ROI
It's important when you want to gain more credibility with your internal and external stakeholders to know how much a Procurement system can be such a great solution to help your organization with its current challenges.
Why Do I Need SRM?
SRM is much more than a buzzy acronym that's been tossed around the business and procurement world for the past decade or so. Is it time to invest in a Supplier Relationship Management solution? 
The contents of this e-book will help you determine that. Signs your business needs an SRM solution to improve procurement and productivity.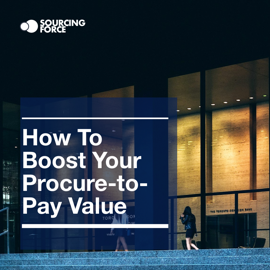 How to boost your Procure-to-Pay value
Learn how to Identify and drive organizational procurement value. Effectiveness is about producing an expected result and the gap between the target and the actual result defines the level of performance. "The less, the better" is now the objective for streamlined and powerful Procure-to-Pay processes.
The Ultimate Guide To Spend Analysis
Procurement organizations should use spend analysis to leverage buying power, reduce costs, provide better management and oversight of suppliers, and to develop an informed procurement strategy. 
Spend analysis should include the identification, automated collection, cleansing, grouping, categorization, and analysis of all spend data for the goods and services purchased for the organization.
Source-to-pay : Learn how to create new sourcing opportunities 
Read about stabilizing your spend, choosing the right suppliers, maximizing internal value and more…
What Are The Four Pillars of DIY Contract Management ? In this day and age of business apps and mobility, technology is driven by the do-it-yourself approach or DIY. Consumer-side technologies and personal experiences support the notion that today it has become easier...
All too often, evaluating procurement and legal departments' technology are centered on solving a specific problem. Typically, they're related to sourcing events, departmental contract management, supplier optimization or spend analytics. In order to maximize ROI,...
Although procurement technology is nothing new, there are first-time implementations going on all the time. Whether you are introducing the company's first full end-to-end platform or adding a new area of functionality to an existing platform (i.e., contract...
Watch our videos
Guides to the procurement world
In the world of Strategic Supply Management, everyone knows that the ROI of strategic sourcing initiatives is only as good as the resulting contracts and the contract compliance in purchasing. Experienced strategic sourcing teams develop a sourcing strategy that is...
read more
Lately, we have seen a significant increase in the number of companies looking to drive more of their spend to eCatalogs and asking their suppliers to provide more catalog content.  During a recent trip, a customer challenged me with a goal – they wanted 90% of their...
read more
"A rose by any other name would smell as sweet."— William Shakespeare, Romeo and Juliet My Procurement Is Your Beschaffung and Their Approvisionnement There is amazing variety in the titles used by professionals in the spend management space. In most cases, those...
read more
Six Steps to Running Successful Reverse Auctions in the Insurance Space Greg Henkin Managing, Partner to a company, has more than 30 years of experience in the insurance industry. He has held senior management positions in several major insurance brokerages, owned his...
read more
Free technology Many companies these days are providing free services and technology to different markets. This is not a new trend. Over a decade ago, I got my first free, Web-based e-mail account. It was a Hotmail account and, in fact, I still have it today. Free...
read more
Structured Sourcing Process and E-tool Deliver Double Digit Savings As sourcing organizations mature, it becomes more and more challenging to deliver significant savings across well-sourced categories. However, it has been Sourcing Force experience that there continue...
read more
If contracts are at the center of commerce and business relationships, then integrated data is at the center of those enterprise contracts. You've likely heard variations of the phrase "That contract isn't worth the paper it's written on." In the same vein, a contract...
read more
Selecting the optimal location for a sourcing As service delivery destinations have become increasingly globalized over the years, selecting the optimal location for a sourcing engagement has become a more and more complex process. While the number of possible...
read more
A recent article from the Sourcing Force newsletter listed twelve symptoms or indicators that your organization might be ready for a procurement transformation.  According to the article, procurement organizations with five or more symptoms were probably ready. What...
read more
Some common themes from ISM and Procurement Leaders. I had the pleasure of sitting in on some great presentations at the Procurement Leaders World Procurement Congress in London, as well as attending the Institute for Supply Management in Nashville. They provided the...
read more
Machine Learning Improves Data Cleansing One of the many Holy Grails of machine learning within the spend analysis domain is the ability to disambiguate and classify customer purchases accurately, quickly, and automatically. It's a fun problem to try to tackle since...
read more
Future of Procurement - Vidéo explanationWhat complexifies your procedures, slows the efficiency of your employees and hinders your growth? Obsolete and unsuitable procurement management policies and processes, of course! And yet, few entrepreneurs spontaneously think...
read more
There are different levels of analyzing your spend, ranging from basic spend analysis to advanced spend management. Consider the following scenarios: Company A: The procurement department reviews and analyzes their general ledger spend for 2019, compares...
read more
I've noticed that there are a lot of terms being used with the word "spend" in them.Oftentimes one word can mean different things to different people at different companies. In an effort to eliminate confusion, here's a central repository for Sourcing Force's...
read more
I often hear the terms "Spend Analysis" and "Spend Management" used together. Often they are lumped together as the same thing, or are loosely defined. So I've decided to make a very distinct differentiation between the two capabilities. Spend AnalysisMany companies...
read more
Shedule a demo today
We will contact you as soon as possible