White Papers
Let's get in touch
Why Do I Need SRM?
SRM is much more than a buzzy acronym that's been tossed around the business and procurement world for the past decade or so. Is it time to invest in a Supplier Relationship Management solution? 
The contents of this e-book will help you determine that. Signs your business needs an SRM solution to improve procurement and productivity.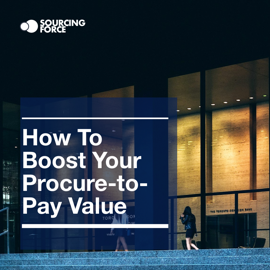 How to boost your Procure-to-Pay value
Learn how to Identify and drive organizational procurement value. Effectiveness is about producing an expected result and the gap between the target and the actual result defines the level of performance. "The less, the better" is now the objective for streamlined and powerful Procure-to-Pay processes.
The Ultimate Guide To Spend Analysis
Procurement organizations should use spend analysis to leverage buying power, reduce costs, provide better management and oversight of suppliers, and to develop an informed procurement strategy. 
Spend analysis should include the identification, automated collection, cleansing, grouping, categorization, and analysis of all spend data for the goods and services purchased for the organization.
Latest Procurement Insights
Argentus has interviewed the co-founder of the Toronto Procurement Network (TPN) and Director of Market Development at Sourcing Force, Benoit Constanty.   You can read the full article here. Preview:  As recruiters specialized within Procurement, we consider it part...
read more
Shedule a demo today
We will contact you as soon as possible